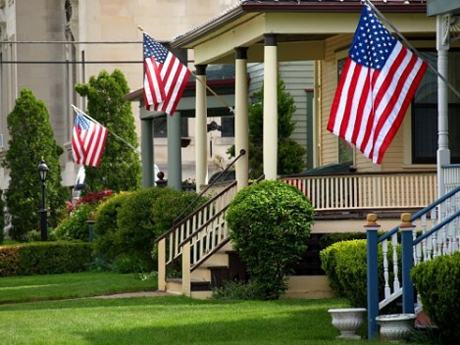 Military life is unpredictable, but there's one thing most active duty members can count on, and that's the fact that they will have a PCS (Permanent Change of Station) at some point in their careers. Some stations, such as those for specific training, might only last a few months, while others can last years.
Knowing this, most of us would assume that renting would be the obvious choice for our servicemen and women, and that owning would be impractical and downright impossible. Why go through the hassle of searching for, closing on, and paying the mortgage on a house if you knew you would likely move again within a few years?
The answer lies within the current market conditions, which actually see unusually high rental costs and lower house prices. Depending on the area, this can turn homeownership into a much more desirable option. For example, if you're looking to buy a home near a good school district, relatively close to the military base, it probably wouldn't take too long to sell the home again in a couple years when your next PCS comes around.
Then there's the issue of freedom. Dealing with landlords can be tricky, and some even prey on military families, knowing they need to live close to base. They can drive rental costs up and keep large portions of security deposits without much reason, knowing the serviceperson will likely be too busy at their new station to fuss over a few hundred dollars by then.
Owning provides a certain degree of freedom and stability, which can be extremely important when you're trying to raise a family. If you and your family like to add certain touches everywhere you live to make it feel like home, this could make renting difficult. For instance, you might not be able to paint the walls or decorate the way you want to.
Finally, there's the issue of using your VA eligibility. If you use a VA loan for your first property, you won't be able to use it on another until the first mortgage is paid off. This means that you can't relocate using a VA loan until the first home has been sold. This can add another crunch to the timeline, which will likely already seem tight because of the moving process.
The best course of action would be to speak to professionals such as your financial advisor and NOVA Loan Officer. They will be dedicated to finding the ideal option for you, and they'll never pressure you to make a decision that isn't in your best interest.
Thank you for your service, and have a Happy Veterans Day!